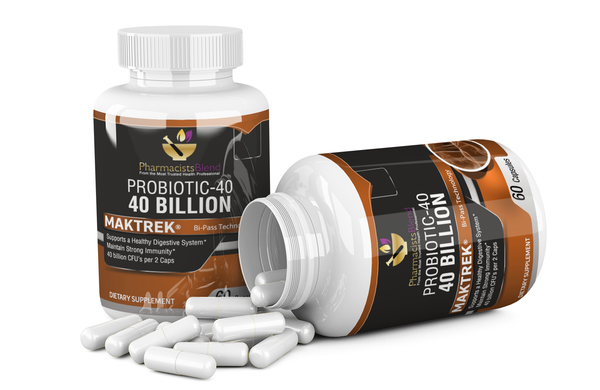 Probiotic-40
Regular price
$39.99
Sale price
$29.99
---
Probiotic-40 is a blend of 4 strains (40 billion organisms) of Probiotic Bacteria. Our Probiotic supplement is designed to provide a high potency and balance of beneficial bacteria. By taking this product on a regular basis Probiotic-40 can help assist in maintaining healthy intestinal flora. This supplement also contains FOS to help with healthy growth of acidophilus and bifidus organisms.
Probiotic-40 contains the following ingredients:
Lactobacillus acidophilus
– Acidophilus in naturally found in the intestinal tract and this helps aid in maintaining the intestinal flora.
Bifidobacterium Lactis
– Bifidobacterium is known for its ability to stimulate the body's immune response and enhance the cellular immunity in the elderly.
Lactobcillus Plantarum
–This is one of the most beneficial bacteria in your body. Lactobcillus Plantarum is known for its health benefits in digestive support and supporting healthy cholesterol.
Lactobacillus Paracasei
–known for helping treat diarrhea in infants, helps reduce pollen allergies and some people have reported relief of symptoms of chronic fatigue syndrome.